We are proud to offer you a seamless and efficient trading experience through our advanced application programming interface (API). With our API, you can unlock a world of opportunities in the financial markets, enabling you to trade swiftly, accurately, and securely.
Our API trading services empower both individual traders and institutional investors to connect directly with our robust trading infrastructure. By integrating our API into your own systems or applications, you gain access to real-time market data, lightning-fast order execution, and a comprehensive suite of trading functionalities.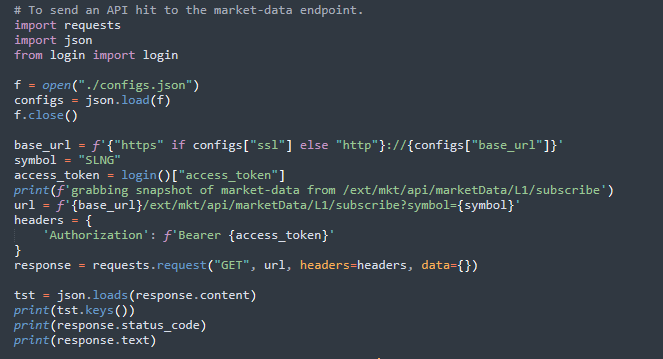 Experience the Advantages of Our API Trading Services
Lightning-fast Execution: Gain a competitive edge with ultra-low latency trade execution, ensuring that your orders are placed swiftly and efficiently. Capitalize on market opportunities instantly, without any delays or lags.
Real-time Market Data: Stay informed with up-to-the-second market data delivered directly to your fingertips. Access real-time quotes, charts, historical data, and market depth to make informed trading decisions based on the most accurate and timely information available.
Customized Trading Strategies: Seamlessly integrate our API through either FIX, Python, and SDK to implement your own proprietary trading strategies or utilize popular third-party trading platforms. Customize and automate your trades according to your unique requirements, giving you the flexibility to adapt to changing market conditions.
Robust Risk Management: Our API trading services provide comprehensive risk management tools to help you mitigate potential risks. Set predefined risk parameters, including stop-loss orders, take-profit levels, and position size limits, to protect your capital and maximize your profits.
Secure and Reliable Infrastructure: Rest assured that your trading activities are conducted on a highly secure and reliable platform. Our state-of-the-art technology safeguards your data and transactions, ensuring the utmost privacy and protection throughout your trading journey.